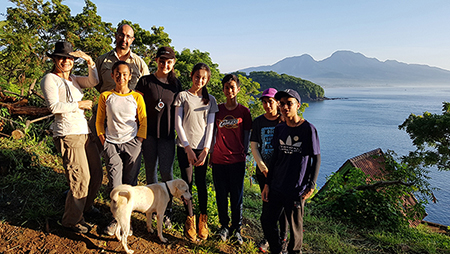 On February 14th the six International Award students -Aiko, Madalena, Naaz, Neel, Shannon and Viggo- along with Ms Nicky and Mr Phillip went to the east coast of Bali to complete their Adventurous Journey (AJ). They had successfully completed their practice AJ near Yogyakarta in November and it was now time to do the real thing. We arrived late in the evening at a guesthouse near Taman Ujung and pretty much went straight to bed so we could be up in the morning bright-eyed and bushy-tailed for the start of our hike.
Day One saw us hiking across rice paddies next to the sea. The views were stunning and luckily the only time it rained was in the evening at the campsite. It was very hot though and we all guzzled plenty of water during the day. At one of our stops, Charlie's Chocolate Factory, we inherited a dog somehow. When we left after lunch he just followed us. We thought he would turn back at some point but he never did. He was a great travelling companion and the students named him Bobby. He ended up walking with us for the rest of the trip. We arrived at the campsite tired but happy at a good day's walking in the beautiful scenery. The students set up their tents and then prepared their food.
Day Two saw us wake up having had not much sleep due to some inconsiderate camping neighbours being noisy until late in the night. However, the students were resilient and after a hearty breakfast we all felt a little more human and we set off once more (with Bobby, of course). This day's walk was a little shorter but more hilly, and once again, it was really hot and humid. We finished walking at around 11.30am and we all had a chance for a shower and lunch before setting off for the airport. The students all worked hard and their navigation and campcraft skills have really improved since the practice trip.
All in all, a worthwhile experience for all.