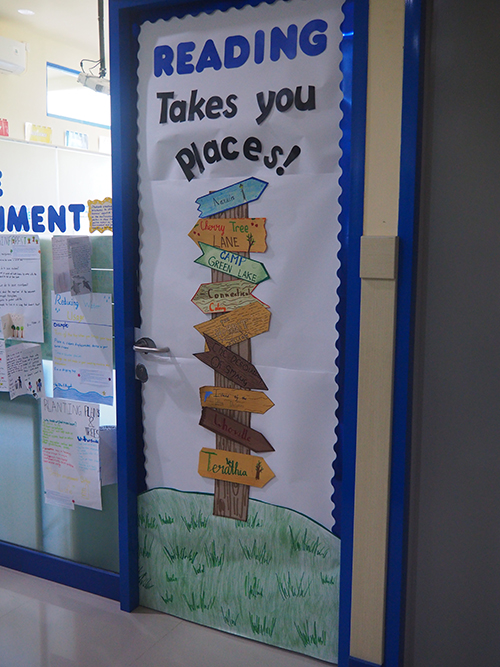 We had great fun here at SES during our Literacy Week which took place from 29th April to 3rd May. Students and staff took part in a wide range of activities, all designed to engage our students with books and to encourage a love of reading. Some of these activities were:
We- Designing a 'Book Door' for the classroom to represent the cover of a famous book. Year 9 won the secondary competition for the most creative design with a magical door opening into Narnia for 'The Lion, the Witch and the Wardrobe' by C.S. Lewis.
We- A Treasure Hunt around school where primary had to answer a series of questions generated by QR codes and secondary decoded posters which symbolise a range of famous novels. Year 10 girls gained the most correct answers and so won the prize for this competition.
We- The 'Who's Reading' match the person to the book competition, which was displayed on the Library windows, was enjoyed by all students, with Nihaal getting the most correct answers.
We- Students prepared their own presentations on their chosen hero and performed these to their classmates.
We- Older students and younger students were matched up and read together in a range of lessons.
We- Parents kindly came into school to read with different classes.
We- Staff took part in 'Book Mastermind' competitions in assembly and lunchtime, students proved their own knowledge in lessons with 20 questions to answer in 2 minutes.
We- Students from Years 5 and 6 performed the brilliant 'The Case of the Missing Parts of Speech' song for primary students and parents, which was followed by the primary teacher's Book Mastermind on 'Holes' by Louis Sachar.