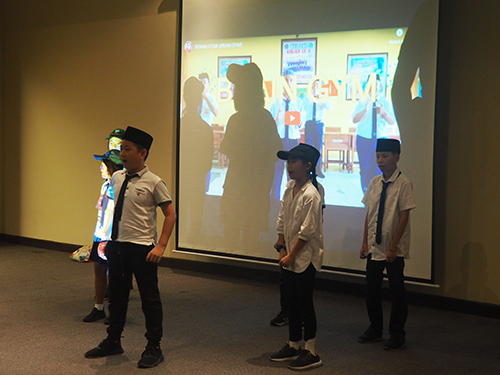 Year 5's assembly was based around the theme of, 'Morning Routines'. It took place in the new and unfamiliar environs of PGFC Meeting Room 1 and all went down on a fine, clear morning in late April. The students of Year 5 each performed their specific roles to great effect. The overall objective was to share some the most helpful morning routines that have aided them to get in the mood for learning.
Things got off to a rocky start due to a certain teacher who did not check to see if his trusty, old Macbook could receive wifi in the new location. Thankfully Ibu. Tatik was on hand to solve the problem.
Our hosts, the glamorous and eloquent twosome, everyones favourite twins, 'Ean and Emily' got us under way by welcoming us. They went on to say what we were about to see, who it would be performed by, and also provided an insight as to why we use that particular routine.
In the first demonstration, Vicky and Phillip showed pose and grace in their execution of the,'Salutation to the Sun'. Not only did they go through the entire exercise without single error but managed involve the audience members too by inviting them up on stage.
The following exhibition was delivered by Matilda, Ricardo, and Jeremy. In this they gave a guide as to how one uses breathing to induce state of relaxed attention. The threesome went on to show a breathing exercise that required team cooperation. This allowed parent, students, and teachers to take part and show us how they collaborate.
We ended our assembly with the sextet of; Chanelle, William, Orion, Joo Ha, Vench, and Lintang. They gave a full and unaided display of, 'Brain Gym'. The entire assembly joined them in this, and lent a festival type atmosphere to the whole event.
From my front row seat, I can tell the reader that it was a, 'lit', 'woke', and even perhaps, 'savage'. I hope next years' Year 5 can be even better than what I witnessed that day.